Organic Groundcover
Wood mulch, wood chips, bark mulch, pine straw, and pine-nuggets create a neutral background for foundation planting, garden beds, and vegetable gardens that allows plants to stand out and help define bed areas for a completed look. All three products are used for more than just aesthetic purposes. These products help to control erosion, soil temperature, and help retain moisture in the soil for your shrubs and plants.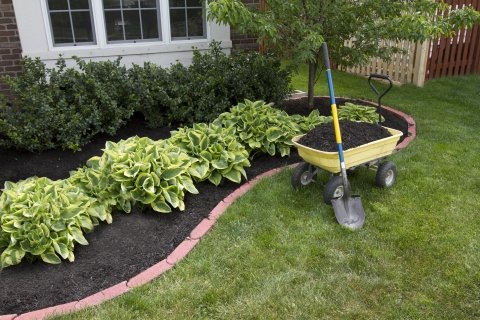 These organic mulch materials are great investments in the beauty of your landscape as well as plant health as they improve the soil. As time goes by, these materials decompose and leave the nitrogen and other nutrients to breakdown into the soil for the plants to use. Additionally, they are better for the environment than inorganic mulches.
Great For Weed Control
Another advantage of maintaining fresh applications of these products is the weed control they offer. Before we spread any of these products, we clean up the property to ensure it looks its best. In the fall, we ensure the leaves from trees and shrubs have fallen and are cleaned up before spreading the straw or mulch.
We also prune before applying these materials to help keep it cleaner for a longer period of time. The last prepping step is to prevent weed growth by spraying the weeds and weed seeds in the bed areas to provide a barrier before the mulch or pine-straw is applied.
Pine-Straw
We recommend pine-straw applications twice each year. One application is recommended in the spring and another after all of the leaves have fallen during the autumn months. When we spread pine-straw on the soil's surface, we guarantee a clean appearance but removing any strings from the bales. We use long-needle pine-straw for better color retention and better tucking to look more professional than the ordinary "thrash"-straw.
Pine-Nuggets

Pine-nuggets last the longest of these products. We use pine nuggets often in accent beds to define the bed and help set it apart. Pine nuggets tend to float, causing a problem if drainage is not addressed before installation. Pine-nuggets come in two sizes: large, which range in size from 2-4 inches and mini, which are 1-2 inches in size.
Mulch
We recommend these applications once each year and a rejuvenation raking in between the application. We spread this groundcover year-round and remove leaves and debris before spreading. There are many different types of products to choose from. Each has a different look and can be chosen depending on your preferences in appearance. Mulch is the greatest option for erosion control.
Single-Ground
We have single-ground mulch available, which have larger mulch pieces than double-ground. It is less uniform but good for extreme erosion control. This variety comes in natural brown only.
Double-Ground
Almost all of the mulch we spread throughout the year is double-ground. Double-ground mulch is a more uniform hardwood mulch that stretches further than the single ground varieties, especially when spread as a re-application. We also have dyed double-ground mulch in addition to the natural color. We offer are natural brown, dyed brown, dyed black, and dyed red hardwood mulches as well cypress double-ground mulch