Gardens are the perfect way to add character to your yard. It brings a sense of tranquility and serenity to the surrounding area. Dreaming of blooming flowers and greenery scaling the side of your home? Make your backyard garden your summer sanctuary.Gardens are beautiful and well appreciated by those in their midsts.
Dreaming of a garden, but yard work really isn't my thing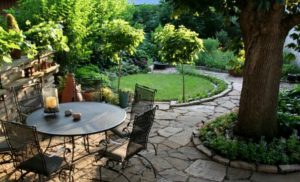 It doesn't matter if spending time in the dirt is a foreign and unwanted experience. Let Greenworks EcoScapes give you the garden of your dreams with our
garden and maintenance services
! Before you give us a call, we recommend having an idea of what you would like your garden to have in it, the style or garden, and elements you would like to incorporate. We also recommend setting a budget for what you would be comfortable spending on your backyard garden landscaping. The possibilities are limitless.Once you have an idea and a budget, we can take it from there.
Customize your garden
Let us help you customize your garden design. There are so many possibilities for your garden space. You have to think about where you want your garden, what the focal point will be, and if you want to have a flower or vegetable garden, or a little bit of both! Will it surround your patio, or will you invest in a koi pond or gazebo to set the mood in your backyard? Will you have raised planters and a stone pathway?
No matter what kind of garden you decide to have, call Greenworks EcoScapes of Athens for gardening services. We will help you create a jaw-dropping garden!