These Georgia summers have everyone craving air conditioned space and a nice glass of refreshing tea. Yet we spend so much time landscaping our yards it'd be a shame to not spend any time enjoying the fun and beauty. Why don't we just combine the best of both worlds and create spaces that have it all? Imagine your backyard to be an oasis – somewhere refreshing, relaxing and beautiful. This can come true with these 3 great landscaping additions.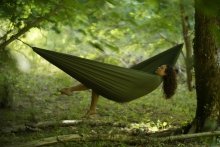 Tree Lit Hammock
Dig that hammock out from the garage storage and hang it between two large trees. The shade will keep you cool and the birds and critters that visit the tree will provide countless hours of entertainment. As the sun descends, you can turn on the tea lights you strung between the branches. The night air will be really refreshing, and the lights will add an ambiance that's sure to rejuvenate you for the day to come.
Pallet Swing Bed
If you're feeling more ambitious than hanging a hammock, try a pallet bed that swings. With an old pallet, rope and a mattress, you're all set for a relaxing place to read a book, enjoy the same shade of those big trees and swing your night away.
Life Size Game Board
If you're not the type that likes to sit still, a game board is the landscape design for you. Use different colored stones to create a large checkers board. Since you're trying to get away from the sun, construct a canopy or deck roof to cover the game. Don't forget about that picnic table with an ice box built to keep your drinks chilled in on the side.
When all is said and done, Greenworks EcoScapes can help you figure out your dream landscaping design as well as landscape maintenance for your home in Georgia.