Hardscape in Athens, GA: The Modern Aesthetic
In recent years, hardscaping has transformed the landscapes of Athens, adding a touch of modernity and elegance. What exactly has made hardscaping a sought-after choice for Athens' homeowners and businesses? The answer lies in its dual promise: practical utility and striking visual appeal.
Athens, known for its blend of historical charm and progressive mindset, has a distinct approach to hardscaping. The community here values both tradition and sustainability. Therefore, hardscape projects in Athens often combine classic designs with eco-friendly materials.
This combination ensures that the outdoor areas are not just visually appealing but also resonate with the city's green ethos. In essence, Athens' hardscaping captures the heart of the city blending the old with the new in harmony with nature.
Mastering Hardscape Maintenance/Installation
From serpentine pathways to grand patios and robust retaining walls, hardscape encompasses a vast array of structures. Each component, whether it's a stone bench or a brick walkway, adds a distinct character to the space.

However, installing these structures isn't child's play. It involves a blend of art – envisioning the design, and science – ensuring durability and integration with the natural surroundings. Once installed, the work isn't over.

Like all structures, hardscape elements require regular maintenance. Sealing, cleaning, and occasionally repairing ensures that these additions remain attractive and functional for years to come.
Navigating the World of Hardscape Contractors in Athens
Given the intricate nature of hardscaping, choosing the right contractor is paramount. While expertise and experience are non-negotiable, there's an underrated factor that can make all the difference: local knowledge.
A contractor familiar with Athens' soil types, climate, and native flora will always make more informed decisions, ensuring the hardscape's longevity and harmony with its surroundings.
That's where the hardscape contractors at GreenWorks Ecoscapes come in. With decades of experience and a deep understanding of Athens' unique climate, our team is the ideal choice for your outdoor needs. From idea to installation and maintenance, we handle it all – so you can focus on enjoying your outdoor space for years to come.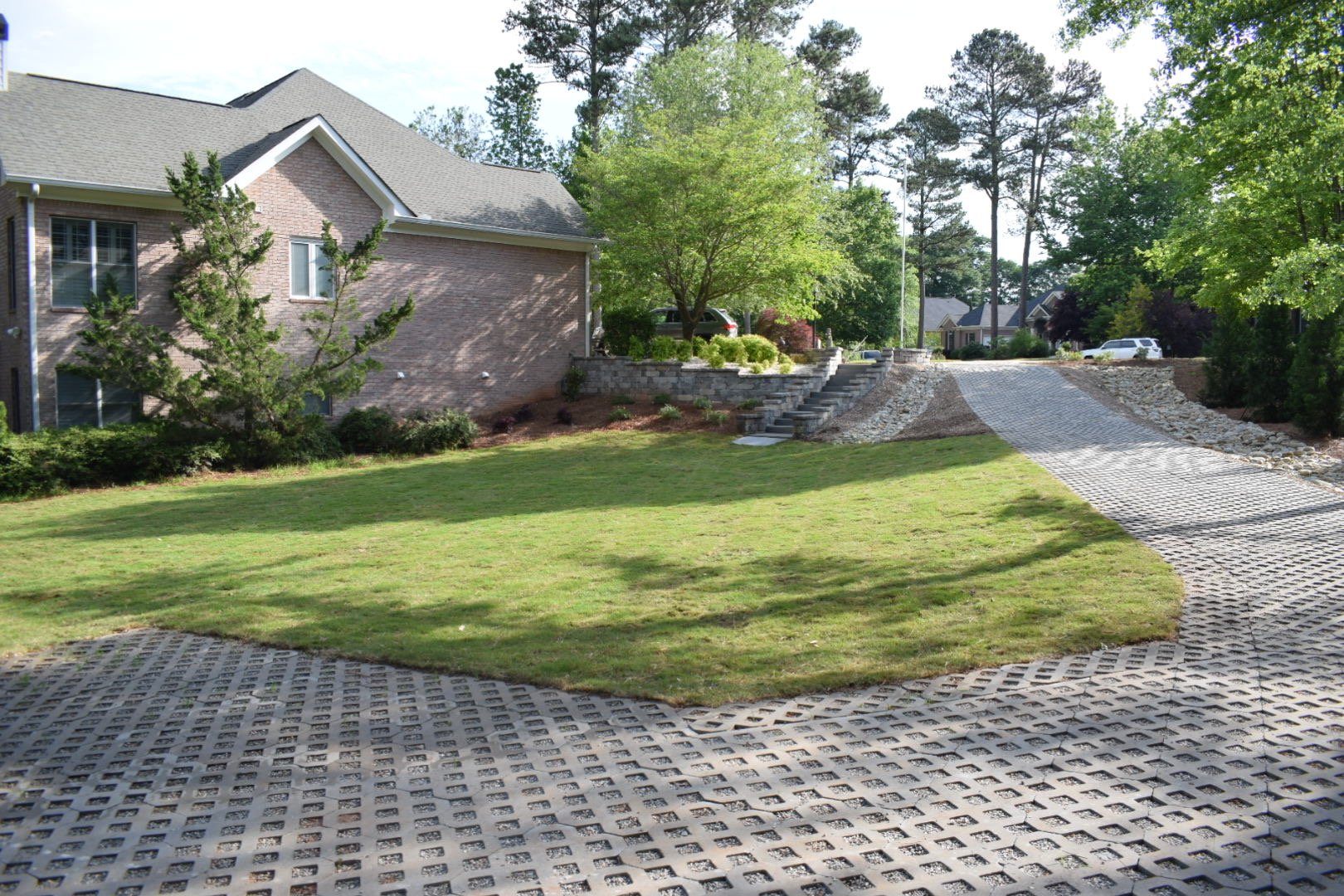 GreenWorks Ecoscapes: Where Green Meets Great Design
In the highly competitive landscape of Athens' landscaping companies, GreenWorks Ecoscapes stands out with its exceptional services and unwavering dedication to the environment. With a focus on delivering top-notch hardscape solutions, our company goes a step further by combining sustainable practices that are both rare and commendable.
At GreenWorks Ecoscapes, we understand the importance of minimizing our environmental impact. With electric mowers and other green techniques, we ensure that our services meet the highest quality standards and leave behind a minimal carbon footprint.
With our meticulous attention to detail and commitment to sustainable practices, GreenWorks Ecoscapes has earned a reputation as a leader in the industry. We take pride in transforming outdoor spaces into harmonious environments that reflect our client's vision while preserving the natural beauty that surrounds us.
Crafting Iconic Outdoor Spaces with GreenWorks Ecoscapes
Landscaping design isn't just about planting trees or laying down grass. It's about creating an experience, a journey. Hardscape plays a pivotal role in this journey. Whether it's leading you along a cobblestone path, offering respite on a stone bench, or framing a garden with a tasteful retaining wall, hardscape elements act as the backbone of any memorable outdoor space.
Ready to transform your property into an eco-friendly haven with stunning hardscape elements? Dive into the world of sustainable landscaping with GreenWorks Ecoscapes. Reach out today, and let's craft an outdoor sanctuary tailored for you.