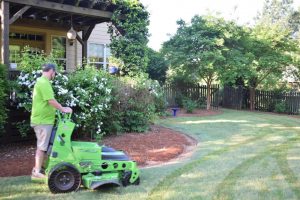 The Essentials of Eco-Friendly Landscaping
Today, the concept of landscaping has evolved significantly. No longer is it just about creating an appealing aesthetic for our surroundings. It's about doing so responsibly with the planet's welfare at the forefront of our minds. Enter the realm of eco-friendly landscaping, where aesthetics meet sustainable responsibility.
The Philosophy Behind Sustainable Landscaping
At its core, sustainable landscaping is driven by a deep respect for the environment. This philosophy seeks to design, create, and maintain landscapes by conserving resources, reducing waste, and preventing environmental damage. When we align our gardening efforts with nature's rhythm, we foster a space that's both vibrant and ecologically balanced.
Importance of Choosing Environmentally Friendly Solutions
Selecting environmentally friendly solutions is not just a trend—it's a necessity. With climate change and environmental degradation becoming more pronounced, making sustainable choices helps mitigate these challenges.
How Eco-Friendly Landscaping Protects the Environment
Landscaping that's attuned to environmental needs protects the environment in several ways. It minimizes water waste, reduces the need for chemical fertilizers and pesticides, and provides habitats for local wildlife. Moreover, it promotes soil health and combats erosion playing a crucial role in maintaining the balance of local ecosystems.
Sustainable Landscape Designs: More Than Just Aesthetics
Landscaping goes beyond aesthetics; it can be a haven for biodiversity and sustainable living. By understanding local patterns and ecology, we create thriving spaces that require less maintenance and become habitats for local wildlife. Sustainable designs can reduce water usage and carbon footprint. Cultivating vegetable gardens cuts emissions and connects us to our food sources.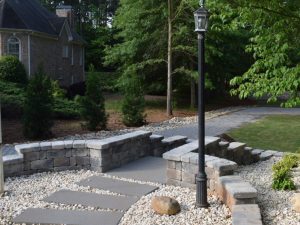 Rethinking Ground Coverings: Beyond Traditional Lawns
Traditional lawns, with their manicured grass and water-heavy requirements, are slowly giving way to more sustainable ground-covering options.
Using ground cover plants like creeping thyme or sedum greatly reduces garden maintenance. They prevent soil erosion, suppress weeds, and require less water than lawns. Ground covers offer various colors and textures, adding depth and variety to gardens.
They grow densely, limiting weed growth without chemicals. Many ground cover plants are drought-tolerant, perfect for eco-friendly gardens conserving water.
Clover, once considered a weed in traditional lawns, is now recognized for its benefits. It's drought-tolerant, attracts beneficial insects, and naturally fertilizes soil by fixing nitrogen. Moss gardens, especially in shaded areas, provide a soft, evergreen carpet that's low-maintenance and reduces the amount of water needed. Other popular ground covers are ajuga, star jasmine, vinca minor, and stonecrop.
Grass Clippings: An Unexpected Goldmine
Often overlooked and discarded, grass clippings can play a pivotal role in nurturing and conserving the garden landscape.
When sprinkled across garden beds, grass clippings act as a natural mulch. They decompose slowly, releasing nutrients back into the soil while also preserving its moisture and suppressing weed growth.
By returning essential nutrients to the soil, grass clippings reduce the need for chemical fertilizers. Over time, this can lead to healthier soil teeming with beneficial microbes and earthworms, creating a thriving ecosystem beneath our feet.
Composting grass clippings fast-tracks their decomposition process, converting them into a rich, crumbly medium ideal for gardens. When integrated into compost bins, they add vital green material, balancing out the brown components and accelerating the composting process.
Water Conservation: Making Every Drop Count
Water is an invaluable resource, and conserving it through intelligent landscaping choices is paramount.
Modern irrigation systems, such as drip irrigation and soaker hoses, focus on delivering water directly to plant roots, minimizing wastage. This precision ensures plants receive just what they need and not a drop more.
Drought-tolerant plants, like succulents and certain grass varieties, can survive with minimal water. Incorporating these into your landscape means less frequent watering, saving both time and this precious resource.
Rain barrels capture and store rainwater runoff from rooftops, which can be used to water gardens. This not only conserves tap water but also utilizes a pure, untreated source of hydration for plants.
Minimizing Stormwater Runoff: Protecting Our Waters
With expanding urban landscapes, managing stormwater runoff is crucial for our gardens and the environment.
Unchecked stormwater runoff can erode landscapes, transport pollutants to waterways, and contribute to flash flooding. Managing it is crucial for the health of our communities and ecosystems.
Permeable paving allows water to seep through, replenishing groundwater and reducing surface runoff. Similarly, rain gardens, with their deep-rooted plants, capture runoff, filtering and returning it to the ground.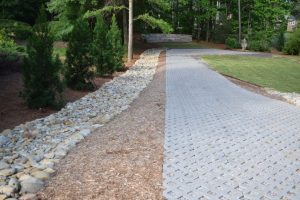 Chemicals Beware: Embracing Natural Alternatives
In the age of eco-awareness, turning our backs on harmful chemicals is a choice our planet will thank us for.
Chemical fertilizers and pesticides, although providing quick fixes, can harm water supplies, beneficial insects, and soil health.
Natural alternatives, such as neem oil, ladybugs, or crushed eggshells, can keep pests at bay without harming the environment. Organic fertilizers, like compost or worm castings, enrich the soil without the toxic side effects.
Composting transforms kitchen and garden waste into gold for gardens. It recycles nutrients, reduces waste, and diminishes the need for chemical inputs.
Embracing a More Organic Approach
Incorporating organic practices in gardening ensures a healthier, more vibrant landscape.
Organic mulches, such as straw, wood chips, or leaves, help retain soil moisture, regulate soil temperature, and prevent erosion. Compost, rich in organic matter, enhances soil structure, improves its water retention capacity, and slowly releases essential nutrients.
From introducing beneficial insects to using biological controls, natural pest control methods are safer for gardens and the planet.
Educate, Innovate, and Cultivate
Eco-friendly landscaping is an evolving field, and staying updated is key to creating resilient landscapes. By monitoring water usage, gardeners can make informed choices, optimize irrigation, and reduce wastage.
Digital tools, workshops, and books offer a plethora of knowledge, guiding enthusiasts toward more eco-conscious landscaping. Joining hands with professionals like GreenWorks Ecoscapes ensures that gardens not only look good but also feel good for Mother Earth.
Future-Proofing Your Garden: A Commitment to Mother Earth
As we stand at the intersection of nature and nurture, our choices echo through eternity. Sustainable landscaping is not just a practice; it's a commitment to the future. Every choice, every plant, and every technique contributes to a healthier planet.
Through sustainable practices, we create a ripple effect benefiting local wildlife, reducing our carbon footprint, and conserving resources.
Let us all play our part in protecting and nourishing the environment. Reach out, innovate, and transform your landscapes into green sanctuaries with GreenWorks Ecoscapes.