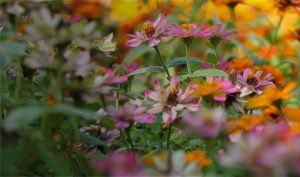 The clock has officially "sprung" ahead, the flowers are beginning to bloom, the squirrels are unpacking their stashes of nuts and the spring rains are upon us. This is the time of year to consider Greenworks EcoScapes seasonal color option. But, more about that in a bit.
Drip Systems
The standard palate for our seasonal color program is generally flower beds and elevated planters, both common landscaping tools. These areas are generally in a good position for a drip irrigation upgrade. Drip irrigation is pretty much just how it sounds. Small, easily hidden, precision watering for your flower beds and elevated planters. The common misconception is that a drip system is not particularly necessary because the regular irrigation system is covering that area. This may be true; however, a drip system delivers moisture directly to the soil and is effective in getting the water where it needs to be. By their nature, bedding plants are obscuring the soil and can actually hinder watering. An effective drip system is the best option for elevated planters and flower beds.
Seasonal Color
Greenworks EcoScapes offers the ideal way to keep your flower beds looking beautiful all year! If it is determined that additional irrigation is needed for your planters or beds we can install the needed components. Our landscape designers will then determine the most practical flowers to install based on your specifications. We will taylor all of the flowers to your exact wishes, or we can recommend what will make your home the envy of the neighborhood. Contact us for a consultation today.