The summer is blasting the heat onto your yard like a BBQ grill searing a perfectly seasoned steak. Speaking of steak, doesn't that sound fantastic? There is not much better than lounging in the backyard with a frosty beverage and a medium-rare steak. But, with all of the yard maintenance you have to do who has time to grill steaks? Well my friend it sounds like you need to call Greenworks EcoScapes. We are proud to serve the finest lawns in Athens, keeping the grass green and the flowers beautiful.
A Lawn You Can Use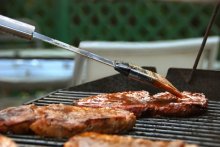 Now, before you are forced to choose between maintaining your yard or slapping that perfectly marbled rib-eye on the grill take a moment to look at our year-round landscape maintenance page. At Greenworks EcoScapes, we offer comprehensive, year-round yard care. It is painfully obvious when you drive by that one house that has the picture-perfect lawn that, either he spends most of his time on maintaining his lawn or he has professional help. Let's face it, most of us lead incredibly busy lives and taking care of the lawn and landscaping is generally an obligation.   
The Solution
Don't get me wrong we know that you love your lawn and enjoy the work, (then again, maybe not) but life gets in the way. We understand, with work and kids it is not as easy anymore to set aside a couple of hours to maintain your lawn. That is why Greenworks EcoScapes offers our lawn service to homeowners like you, a gorgeous lawn that you actually have time to enjoy. So defrost those steaks, kick off those shoes, and take a stroll around your gorgeous lawn. Give us a call today, for a comprehensive and free, professional consultation. We also repair underground irrigation and clean out gutters! Let us take care of your lawn!