Demystifying the French Drain: A Primer
Every homeowner wants to protect their investment, and one silent menace that can wreak havoc on homes is uncontrolled water. So, what is a French drain? Simply put, it's a slightly sloped trench filled with gravel and a pipe that whisks water away from your home. A French drain is an elegant solution to divert water issues and prevent them from damaging your property.
Unchecked water can cause myriad problems. Not only can excess water lead to unsightly muddy spots in your lawn, but it can also lead to more severe issues, like a compromised foundation or mold growth inside your home. These conditions can lead to significant water damage, depreciating your property's value and causing potential health issues.
This is where the French drain comes into play. Its primary purpose is to prevent these water-related catastrophes by efficiently redirecting the water away from problem areas.
Anatomy of a French Drain System
At first glance, a French drain might seem simple, but it's a product of thoughtful design and specific components. Let's unpack:
Perforated Pipe: This is the heart of the system. The perforated pipe is designed to capture water and direct it away, ensuring it doesn't pool in undesired areas.
Water Permeable Fabric: Wrapped around the gravel and pipe, this fabric ensures that dirt and debris don't clog the system while letting water through.
Gravel: This provides a loose, easily permeable medium for the water to filter down to the pipe.
Types of Piping: There are different types of piping available, like PVC or flexible corrugated plastic. The choice depends on the specific needs and the expected water volume.
Retaining walls and French drains can often go hand in hand, especially in landscapes with significant slopes or where there's a need to prevent soil erosion. While the primary function of a retaining wall is to hold back soil, it can also be designed or adapted to work with a French drain system. This combo ensures that both soil and water are managed effectively, providing dual benefits in a single design.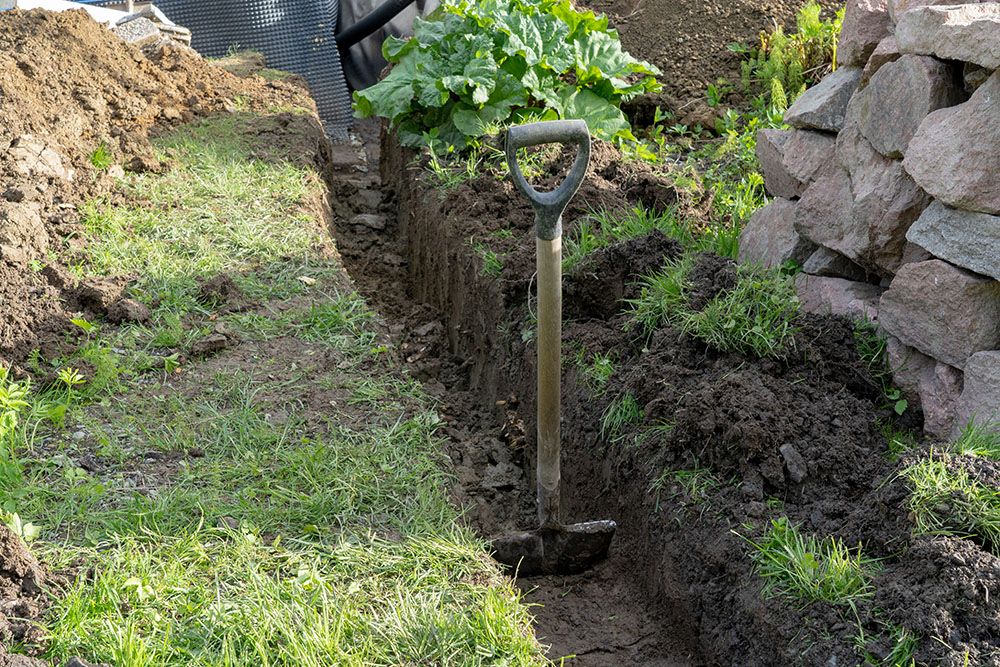 How Does a French Drain Work: The Science Behind It
When it comes to understanding how a French drain works, one needs to think about the balance between gravity and the natural flow of water. At its core, a French drain uses the principle of water seeking the path of least resistance.
As rain falls, some of it is absorbed by the ground, while the rest, known as surface water, continues to flow. However, when the ground becomes saturated, this water can pool, leading to various problems.
This is where French drains come in. Designed with a slight slope, they capture this excess water. The perforated pipes within the drain allow this collected water to enter while gravel surrounding the pipe provides easy passage. As the water is drained, it's directed away from problematic areas.
One of the primary objectives of a French drain is to ensure that water doesn't compromise the structural integrity of a building. Directing the water away from the home, it helps prevent foundational water damage, mold growth, and other water-related issues that can plague homeowners.
French Drain Installation: Steps and Considerations
The Step-by-Step Installation Process
Identify the Problem: Before installing a French drain, it's crucial to identify where the water accumulates and the best route to direct it away.
Digging the Trench: A trench is then dug, sloping away from the home or problem area. The depth and width depend on the severity of the drainage issues.
Laying the Fabric: A water-permeable fabric is laid, preventing dirt and debris from clogging the system.
Placing the Pipe: A perforated pipe is laid at the bottom of the trench.
Filling with Gravel: The trench is then filled with gravel, ensuring water can easily flow into the pipe.
Covering and Restoration: The trench is covered with soil or grass, restoring the yard to its previous state.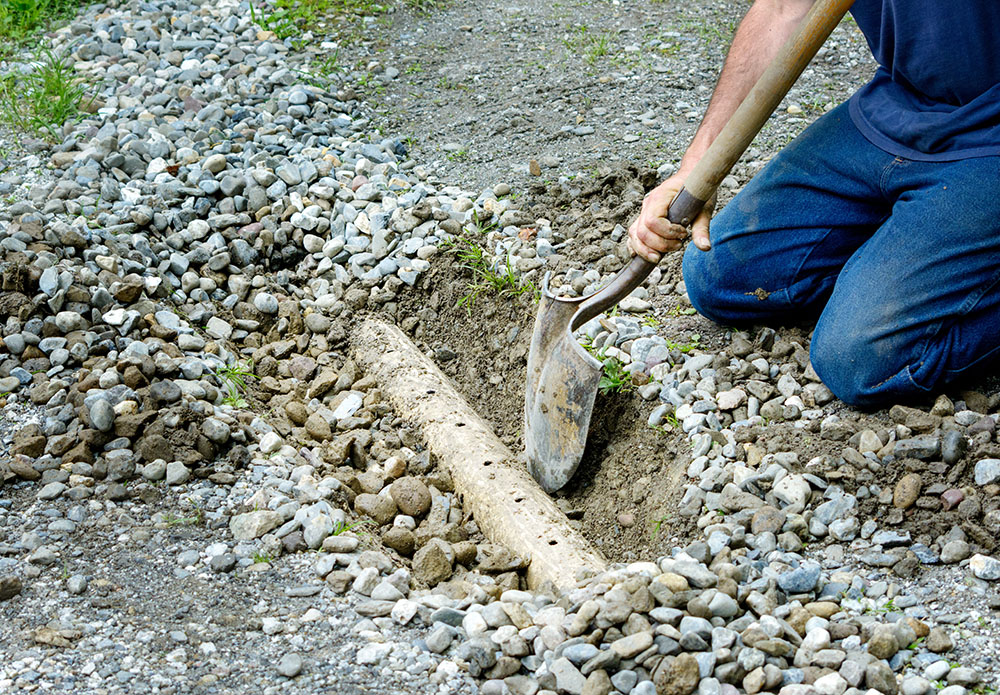 Key Considerations for an Effective System
While the installation process might seem straightforward, several considerations can impact the drain's effectiveness. Recognizing potential drainage problems early on, choosing the right materials, and ensuring the proper slope is essential.
Additionally, periodic maintenance checks help prolong the drain's lifespan and ensure that drained water flows smoothly.
By understanding these processes and considerations, homeowners can make informed decisions about the best drainage solutions for their properties.
When and Why You Might Need One
Water damage in a home can be a nightmare, stemming from various sources like rain, snow melt, or even a sprinkler system gone rogue. One common culprit behind such water damage is a drainage problem. If you notice water pooling near the foundation of your home after a rainstorm, or damp, moldy spots in your basement, these might be signs that you need a solution to redirect that water.
However, while French drains are versatile, it's essential to note what they aren't designed for. They're fantastic for addressing water that accumulates in soggy lawns but aren't replacements for storm drains. So if your street is flooding, a French drain won't be the solution.
Making the Right Choice: Types and Variations
French drains aren't one-size-fits-all; there are various types tailored for specific situations. For instance, some are designed to lie deep beneath the ground to protect your home's foundation, while others might sit just beneath the surface to address a soggy lawn or garden.
By understanding the specific type of french drain suitable for your problem, you can ensure the longevity and health of both your landscape and home.
Protecting Your Property with Effective Drainage
Water, as beautiful as it can be, can also be destructive when it's in places it shouldn't be. An efficient drainage system is not just about moving water; it's about protecting your investment in your home and land. When drains work effectively, they help to maintain the structural integrity of buildings, prevent mold and mildew growth, and safeguard the beauty of landscapes.
But how do you ensure you're making the right choice for your property? How do you ensure you're tackling the root of the drainage problem and not just a symptom? That's where expert advice and installation come into play.
If you're experiencing drainage concerns or simply want to be proactive in protecting your property, consider reaching out to a professional. They can guide you through the intricacies of french drain installation and ensure you're safeguarded against the potential devastations of water damage.
Don't wait for water damage to take its toll. Ensure your property is protected with expert drainage solutions. Contact us today!