Can You Landscape in the Fall? Debunking Fall Garden Myths
Fall, with its cozy ambiance and picturesque scenery, might seem like a time to wind down and put away the gardening tools. But is it? A prevailing myth is that the fall season doesn't bode well for landscaping, but let's set the record straight.
The cooling temperatures of fall are actually kind to plants, giving them a break from the summer's harsh heat. This season can be ideal for certain gardening activities, allowing plants to establish roots in the temperate soil before the frost sets in.
Warm Season vs. Cool Season: The Best Grasses for Fall Landscaping
Grasses, like other plants, have their preferences. While warm-season grasses thrive in hot temperatures, cool-season grasses come to life as the days get shorter and the air turns crisp.
Cool-season grasses like Kentucky bluegrass, ryegrass, and fescue excel in fall's mild temperatures. When planted in the fall, they establish strong roots, ensuring a lush green lawn when spring arrives.
Fall Landscape Ideas: Revitalizing Your Lawn and Garden
Think of your lawn and garden as a canvas, and fall as an opportunity to paint it with vibrant hues and textures. Here's how:
Trees and Shrubs: Consider adding maples for their fiery autumn colors or dogwoods for their striking red berries. Both not only enhance the fall landscape but also offer year-round appeal.
Fall Flowers: Chrysanthemums and asters are classic choices. Their radiant colors can make any corner of your garden pop.
Ornamental Grasses and Garden Beds: Ornamental grasses like switchgrass add motion and texture. Integrate them into garden beds for depth and contrast.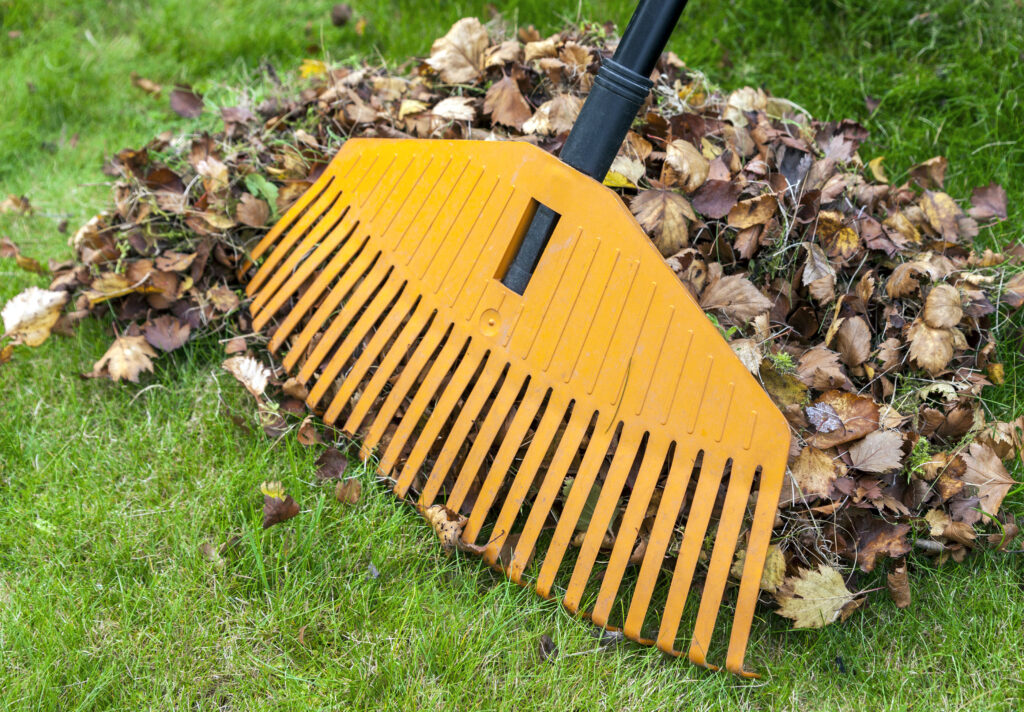 The Role of Fallen Leaves in Your Fall Landscaping
Instead of viewing fallen leaves as a chore, see them as a golden opportunity. These natural wonders serve as a rich, organic mulch for garden beds, retaining soil moisture and suppressing weeds. They also enrich the soil as they decompose, providing plants with essential nutrients.
When it's time to clear them from your lawn, rake leaves gently to avoid damaging the grass and gather them for composting or mulching. Early spring and fall is the ideal time to apply a protective covering of mulch for your garden beds. This helps to regulate soil temperature and suppress weed growth all season long.
Plus – this is a great time to service your lawn mower and other equipment before storing them away for the winter.
End-of-Season Garden Care: Setting Up for Spring Success
It's easy to assume that when the colors of fall set in, it's time to retire your gardening gloves. Yet, the truth is that what you do in the fall sets the tone for your garden's performance in the spring.
Preparing Garden Beds for Winter
The key is in the preparation. Start by clearing out any dead plants or debris, giving your garden beds a clean slate. This not only keeps pests and diseases at bay but also ensures that your soil remains rich and ready for next year's plants.
For your fall flowers, consider adding a thin layer of mulch. This helps in retaining moisture, regulating soil temperature, and providing essential nutrients.
Fall Landscaping: A Promise of Year-Round Beauty
Fall landscaping isn't just about maintaining aesthetics. It's a strategic move that ensures your garden thrives throughout the year. Plants and trees rooted in the fall often have a better survival rate, thanks to the cooler weather, giving them a robust start come spring.
GreenWorks Ecoscapes understand the nuances of seasonal landscaping. They offer year-round design and maintenance services tailored to each season's unique needs. Their expertise ensures that gardens remain vibrant and healthy, no matter the time of year.
Making the Most of Fall Landscaping Tips with GreenWorks Ecoscapes
It's no secret: fall is a hidden gem in the world of landscaping. Whether it's preparing soil, planting cool-season grasses, or simply maintaining the aesthetics of your lawn, there's plenty to do.
If you're keen to truly harness the potential of this season, it's worth consulting the experts. GreenWorks Ecoscapes has a proven track record of understanding the seasonal shifts in landscaping, ensuring that gardens not only survive but thrive.
Ready to elevate your garden game? Our team at GreenWorks Ecoscapes is eager to help. Whether it's a simple consultation or a full-fledged landscaping project, we're here to turn your vision into reality. Don't let the fall pass you by; make the most of this golden season with us.